Life on the edge: meet the man who walked around the UK
Facing financial ruin, Christian Lewis, a former paratrooper, set out on a six-year, 11,000-mile trek around our entire coastline. It changed his life in more ways than he could possibly imagine
Christian Lewis is sitting in the kitchen of a family home that is not his own, having only met the owners once before, near St Peter Port, Guernsey. He needed a reliable internet connection to do this interview and the family, who have followed his journey on social media, offered him their place. This, says Lewis over Zoom, is "not the first time things like this have happened". That's putting it mildly.
The Lewis I speak to today is a man totally transformed from the 37-year-old who first set out to walk the entire coastline of the UK back in August 2017. Then, he was living in Swansea and was too afraid even to answer his front door. "It really was as if there was a Russian spy at the door… It was ridiculous. I'd hide behind the cupboards," he says. A former paratrooper, Lewis had struggled on his return to "civvy street", trudging from one cash-in-hand job to another, his mental health spiralling, while also being a single parent to his daughter, Caitlin. "I fell behind on bills, debts, God knows what else… I didn't want to leave the house."
It was Caitlin's decision to leave home, aged 16, which triggered his desire to change his life. With just weeks left on the tenancy of his flat and a deteriorating financial situation, Lewis realised he was facing homelessness. The day Caitlin left, he went down to Llangennith beach on the Gower Peninsula, where he had an epiphany. "I just said to myself, 'Look, if you don't do something now, you really are in trouble, mate!' Because I knew that whether it'd be changing jobs, changing house, moving to another place, my problems would follow me," he explains. "There and then, I made the split decision to walk." Why he chose this walk in particular is a question Lewis can't answer. "I don't know. It very much just came into my head: the UK coastline."
Owing to the effects of the tide, the exact length of the UK coastline is up for debate. One estimate puts the coast of England, Wales and Scotland – plus their islands, which Lewis has included in his expedition – at 11,023 miles. That figure excludes the coast of Northern Ireland, which he has also completed as part of his mission. Whatever the exact figure, it is an enormous endeavour and one which is the subject of Lewis's exhilarating book, Finding Hildasay, which he wrote on an A4 pad while walking, and is named after the uninhabited Scottish island where he lived alone for three months during the first Covid-19 lockdown.
Within three days of his life-changing decision, Lewis had gathered the meagre supplies he needed for the trip. Most were donated to him by family and friends: gas stove, map, sleeping bag, two days' rations, and a tent with a hole in the top. His sister helped set up a Facebook page for him to document his walk, which he decided to use to raise money for SSAFA, an armed forces charity that supported him during his hardships. His mum bought him a phone on eBay to take photos. With £10 in his pocket, Lewis set off. His main plan? To walk with the sea on his left.
His initial experiences were gruelling. Lewis quickly ran out of money, went days without eating and lost a lot of weight. His tent leaked whenever it rained, soaking all his kit. He had to limit himself to 10 minutes of torchlight a night, as he couldn't afford new batteries. But giving up was never on the cards, he says. "Whether it be hunger, lack of sleep, or because my kit was just abysmal, I always reminded myself, 'What would you rather be doing? Would you rather be doing this? Or would you rather be sat in your flat, with absolutely no light at the end of the tunnel?'"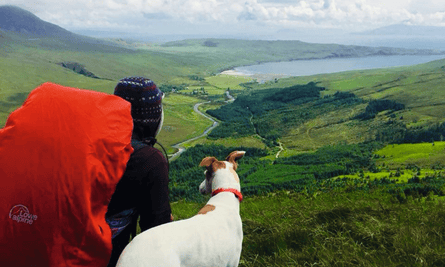 Gradually, Lewis's fortunes improved. He learned to forage for limpets and mussels. He got better at talking to people, telling them of his charity walk; in turn, they offered help, with food and sometimes a place to stay. A person in the Lake District bought him a new set of walking boots, sleeping bag and cooking pots; he was greeted in Northern Ireland with a £380 envelope of cash, which he used to buy a proper, four-season tent before heading into the Scottish Highlands for the winter. Indeed, Lewis's journey has often depended on the kindness of strangers. "There are," says Lewis, "so many good people out there."
And those following his journey grew and grew. At the time of writing, Lewis has more than 112,000 followers on Facebook, with more than £277,000 raised for SSAFA so far. It's been about "forcing myself into a position where in order to make this grow, the walk, and getting the donations," he says, "and meeting others and hearing their stories, and then realising that if I just opened up a little bit, we're having a two-way interaction between people that need to chat to each other."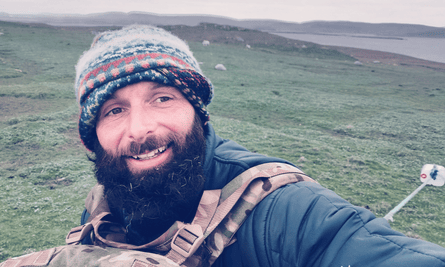 A self-described "all-or-nothing kind of guy", Lewis has added even more to his adventure, completing the Three Peaks challenge – climbing the mountains of Snowdon, Scafell Pike and Ben Nevis – along the way. Not only, he says, has it restored his faith in humanity, it's also how he met Kate, the woman who is now his wife and with whom he has a son, and a pet dog, Jet – a lurcher cross.
Since setting off, Lewis has found his misfortunes have been turned on their heads – often remarkably quickly. He recalls his first Christmas, on the tiny Scottish island of Little Bernera, which he initially dreaded. Stuck on his own, with a menu consisting of foraged limpets, "which I was sick of eating at this point… I really remember just sort of telling myself: 'Right, mate, you've got to batten down the hatches for Christmas and Boxing Day, everyone's going to be doing stuff with their families, this is going to be tough.'" When suddenly, a family he'd met the day before arrived by boat, having spent all morning cooking a Christmas dinner to eat with him. "The weather stops and it becomes beautiful, and I'm sharing a roast dinner with a family in the most idyllic place in the world," remembers Lewis. "And it's those little points where things turn on a sixpence. One minute you're thinking, 'What the hell am I going to do?' and the next something else has happened. I love that uncertainty."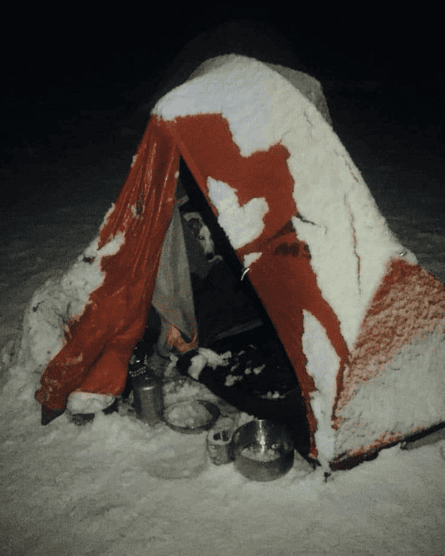 Physically, he's muddled his way through some sticky situations. While walking on Islay, he slipped on some seaweed-coated rocks, injuring his ankle. "I ended up having to drag myself to the nearest road where I could seek some help, which was about 14 miles away," he says. Another time, he cracked a tooth clean in half, and was forced to extract the part that was protruding into his gums with an old guitar string, after glugging some whisky from his hip flask. The pain, he says, was so excruciating he "spewed up everywhere". Yet Lewis is remarkably positive about these incidents. "Things like that taught me a lot about myself and the importance of remaining calm."
His "absolute highlight", though, was the three months he spent on Hildasay, off the west coast of Shetland, during that first lockdown. "I felt it was a very, very calm place for me, while everyone else was rushing around for toilet rolls," he says. Instead, he focused on staying fit and "working hard for the basic amenities, some heat, some food and making sure that Jet was warm, and I was warm, too."
His journey didn't stop at Hildasay, which is where his book concludes. In fact, he's still on his adventure (and may yet pen another book about the rest of it). When we speak, in mid-January, he is preparing to head to Jersey, where he'll finish walking the Channel Islands, before sailing to Weymouth, then along to the southwestern tip of England. He estimates he has another five months left before crossing the finish line back in Swansea.
Not long after leaving Hildasay, in August 2020, Lewis was camping by the Whaligoe Steps, on the northeast coast of Scotland, when he met Kate, who was on an adventure of her own, the North Coast 500. "About 40 minutes after she left, she came back down with some fish and chips, two cans of good old Scottish Tennent's," recalls Lewis of their meeting. "And that was it, we hit it off. Six weeks later, she came and joined me."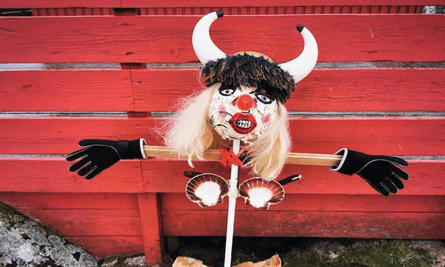 Kate gave up a career training teachers and last spring the couple welcomed their newborn son, Magnus, with Kate having walked and wild camped throughout her pregnancy. "It's been phenomenal," she says. "I could never have expected when I joined that we would have had a baby on the way." Since Magnus joined them, the couple have slowed in pace, using a van to carry their things and sleep in when needed.
But Lewis is intent on crossing that finishing line. He has, he says, learned so much when it comes to talking about mental health and how "the more I opened up, and the more honest I was, then actually, the more that would help people". In turn, speaking to people has improved his own wellbeing. "I think, realising there are so many people out there like that, too, helped me to feel less shame in myself." His journey has helped to restore his relationship with Caitlin, who has supported him throughout and to whom, along with Magnus, he has dedicated his book.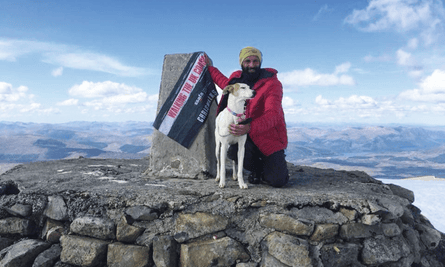 Lewis has reaped the benefits of being in nature, too. "It's said, so many times, this connection with nature thing," he says, particularly "being outside for long periods of time in places that make you feel so insignificant." All of this, he says, puts things into perspective. "When you feel much smaller, it makes you realise how lucky you are. We have a very small possibility of living a life on this planet and you've just got to bloody make the most of it. End of."
What has his journey given him so far? "I don't need much if I've got this," he says, gesturing around him. "As long as I've got Jet, Kate and Magnus, then I don't need anything else to make me happy." Then, with a shrug of his shoulders, he adds: "The simpler things in life: staying young and having fun – not getting too serious – are very important. And I love the outdoors."
Finding Hildasay by Christian Lewis is published by Macmillan at £16.99. Buy a copy from guardianbookshop for £14.78
Source: TheGuardian